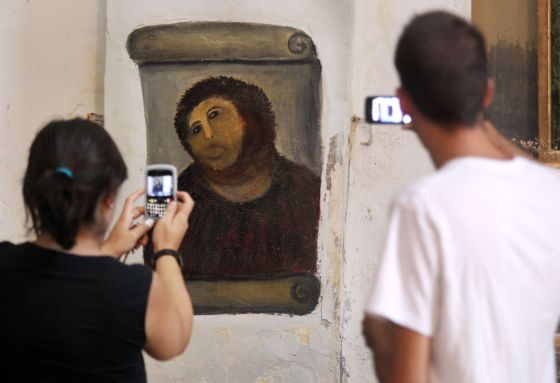 The image appears on T-shirts and cellphone covers, coffee mugs and wine labels. And the 80-year-old pensioner who just weeks ago was mortified by the global stir she created with her botched restoration of a fresco of Christ is now looking to get a piece of the action.
The church painting in the town of Borja was for decades a little-known piece of religious art by a minor Spanish artist. Now that Cecilia Gimenez has disfigured it, it has found a new fate as an international icon -- used to sell products around the world.
The influx of visitors hasn't shown any sign of letting up since news of the fresco rocketed around the world, Arilla said. About 1,000 people paid admission last weekend, and the number of visitors has averaged 100 daily this week. The charge was put in place to cover the cost of additional workers needed at the sanctuary to manage the crowds.


Read more on CTV News